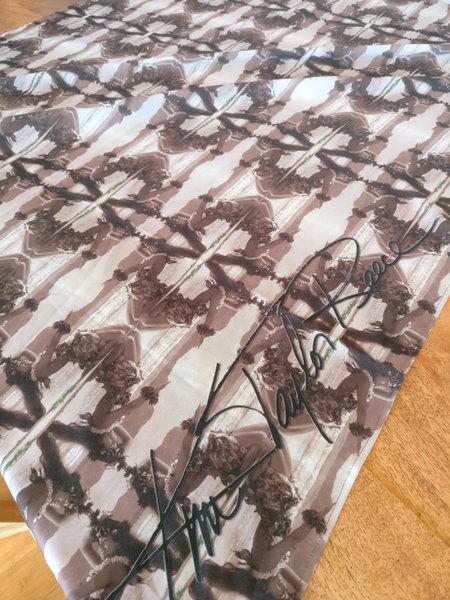 Scarves
Our signature scarves are handmade in Hawaii. Choose from Purple Kawela; Green Hula Noho; Signature Hula Noho or ; Pink E'ala; or. Each features our iconic hula kahiko images and a pop of color to enhance any outfit.
• Kawela - purple border, 36x36
• Hula Noho - green border - 36x36
• Signature hula noho - green signature - 36x52
• E'ala - pink border - 36x36
Poly Crepe de Chine is a sheer, lightweight 100% polyester crepe fabric ideal for our scarves, with a soft drape and a delicate weight. This exciting fabric features bright colors that hold up very well to multiple washings. It is great for everyday or traveling, folds into a small area yet covers as well as a lightweight blanket.

Wash separately in cool or warm water using a gentle machine cycle.
Machine dry using a low temperature or permanent press setting and remove promptly to avoid wrinkles.
Iron if necessary with a light touch on a synthetic setting with the printed side down for best results. Higher iron temperatures may result in color transfer and, in extreme cases, melting of fabric.